news:
29.03.2015: Upgrade 2015 - Mustang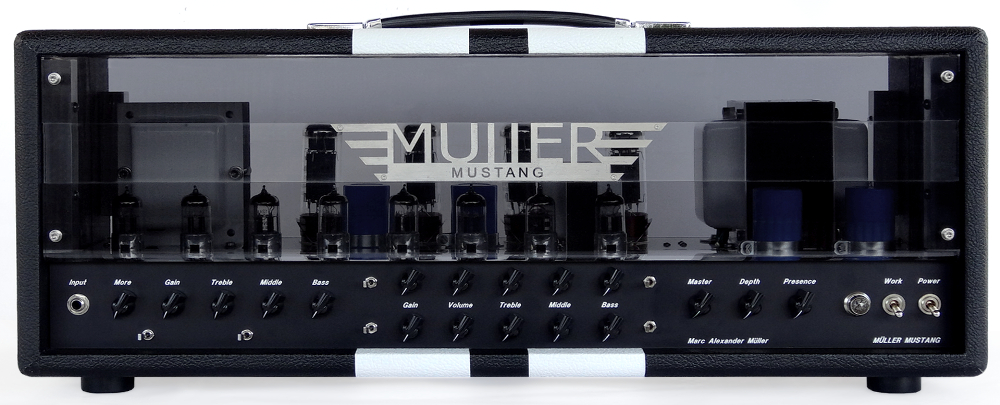 All Mustang an Nighthawk amps are now delivered with Printed Eyelet Boards. These combine best of both worlds. The signal path is identical to the P2P board, but with the new boards control lines can be build as traces. This again increases the stability of the amp.



As worldwide novelty the Mustang can be ordered with a changeable glass bottom through which the inside can be viewed. To realize that a 6mm acrylic glass is hold in place with a 2mm stainless steel frame and ten screws. If it is necessary to put the amp on top of another one with a stray field to the top it is possible to change the glass bottom to a shielded plate.



more details at the Mustang page.
06.02.2015: Toxic Combo
The Toxic can now be ordered as a regular amp. It will be delivered as a two channell combo with a mahogany case, tube rectification, sweet/punch-mode and a 12" WGS speaker. A switchable solo-volume is also available.

more details at the Toxic Special page.
24.09.2011: Mustang 2x12" Combo is finished
Christoph Berner's new Mustang Combo is ready to ship. The amp has been optimized to act in a semi open cabinet, as well as Christoph gets a modified fx-loop which only switches the send-signal. Because of this, echo signals still can be heard after switching off the loop.

The speakers are two WGS ET65 whicht are the perfect partner in this semi open combo cabinet. This results in heavy bass, warm mids and smooth treble without the often heard mid-peak.

Be aware of the details! The logo is mounted with nine small M2 stainless steel screws to prevent any vibrations. Also the chassis is mounted with stainless steel allen screws.

Furthermore the combo has four pluggable heavy duty castors and two bar handles.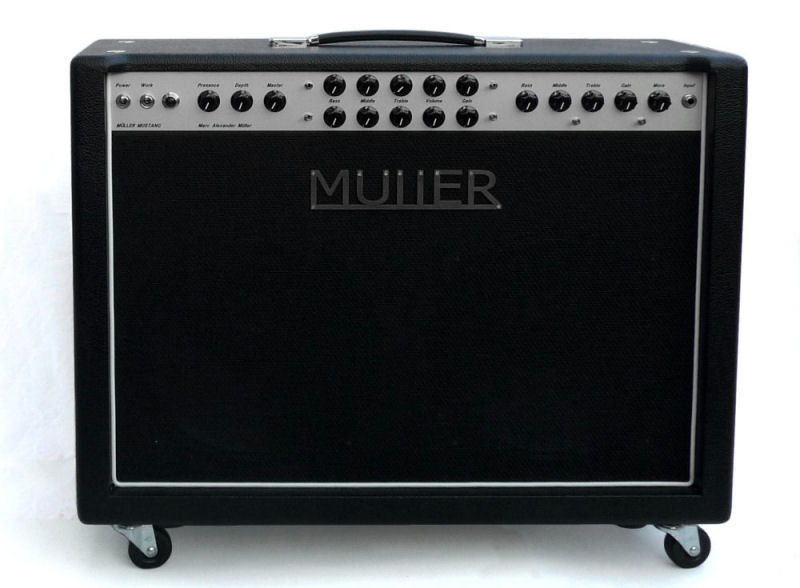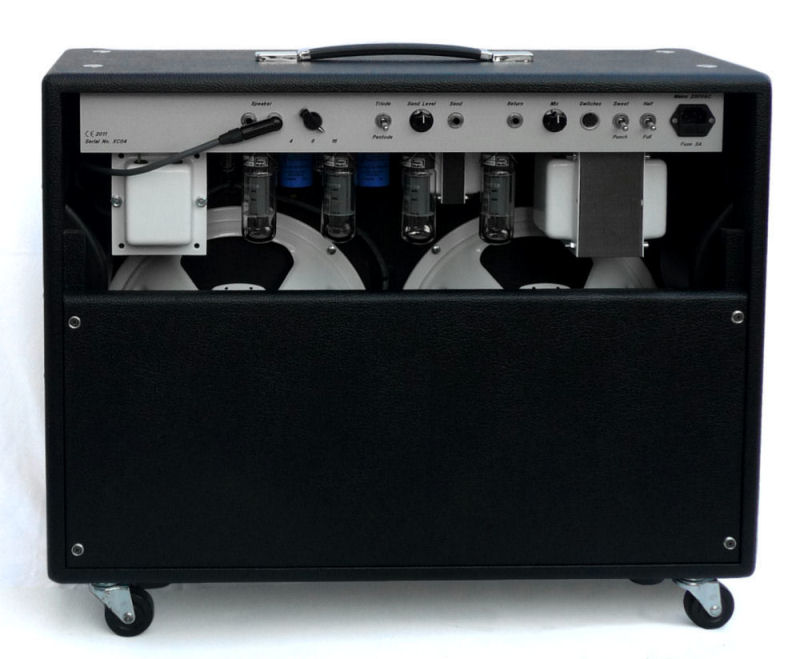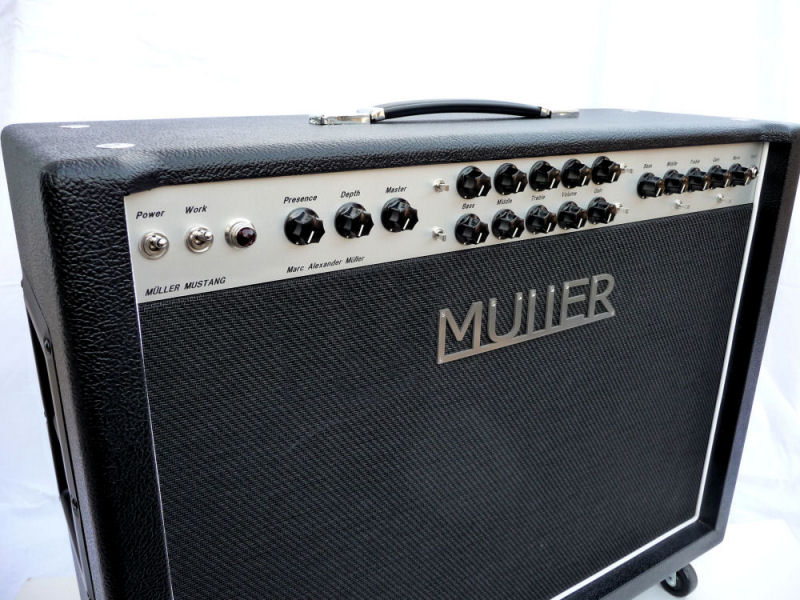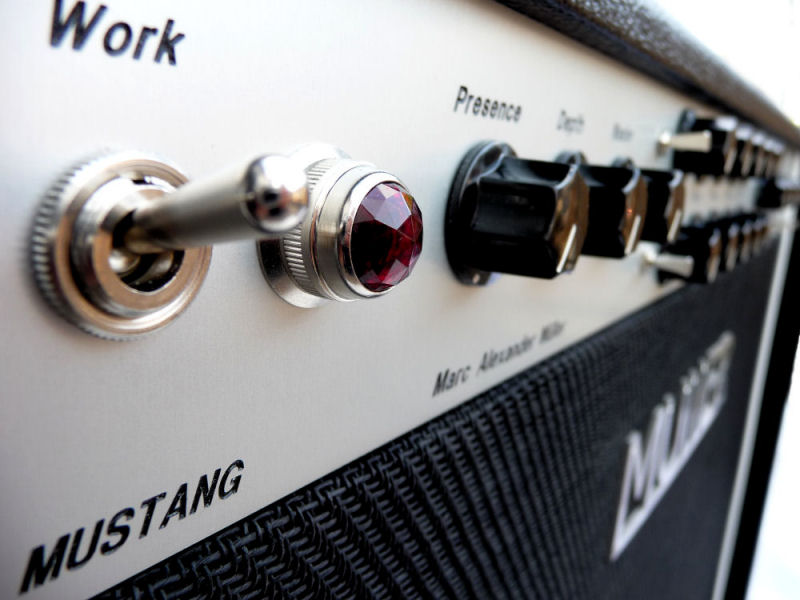 03.04.2011: new options for Nighthawk
The Nightawk is now available with 2 Mastervolumes and a footswitchable third channel boost. These options can be combined with a 4- or 6- switches footswitch. The footswitch is now also available with a direct push switch for each of the three channels.
Nighthawk mit 2 Mastervolume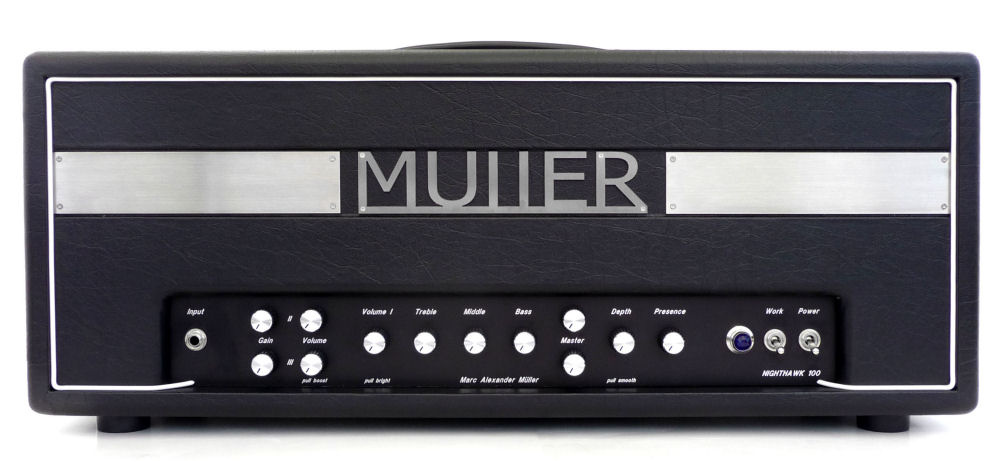 26.02.2011: Mustang 2x12" combo
Christop Berner will get a new Müller amp.
After his Toxic, Christoph, guitar player of Lizard, Poems on the rocks and Cocker Band, will get a special edition Mustang combo with 2x12" speakers around midyear.
Christoph Berner
14.02.2011: review in Gitarre & Bass
A Mustang review comes out in the next issue of the Gitarre & Bass magazine which will be available on 2011-02-18.
Here a first extract of the review:
"Boutique-Amps made in Germany? Still seldom. More then ever when focussing on self creations instead of vintage replicas. The top level is still represented by Peter Diezel. But in Swabia there is someone who is getting close on his heels. Not as far as sales figures are concerned, but in case of meticulousness and abandon."
translated from Gitarre & Bass, 03/2011
Testbericht Mustang
10.02.2011: new pics in gallery
Sebastian Bräuning / Royal Rodeo now has his own folder in the gallery. There are pics of him and his "lightning" Nighthawk.
I also added some more pics in the other folders.
Sebastian
06.02.2011: Classic clips of the Mustang
Sorin Badin has recorded some Classic clips with the Mustang. He has played his Siggi Braun Custom guitar.
20.12.2010: Mustang metal clip
Lasse Lammert / LSD Tonstudio has recorded Your Brand new Attitude / Rarefaction with the Mustang. He wanted to get a very deep scooped sound with guitars tuned to Bb.
Mustang metal clip - high quality
The video to this song shows pics of the building process.
Another clip recorded by Lasse with a more saturated sound.
06.12.2010: Escapado - Freiraum
Sebstian Henkelmann has recorded Freiraum of the new album Montgomery Mundtot with the Classic and a Nik Huber Dolphin guitar.
02.12.2010: new videos of the Mustang
Olaf has recorded two videos of all of the four basic sounds with a Strat and a LesPaul.
Mustang channel 1/more
Mustang channel 2/3
05.11.2010: first video of the Mustang
while a tubetown community ampfest a video of the mustang was recorded. Thanks a lot to Micha! It gives a small overview of the possibilities of the Mustang.